C A V E M A N: The World's Most Awesome Internet Game!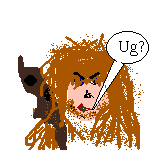 OK, so maybe it isn't the world's most awesome internet game, but it's still pretty cool...
So here's the story...you are a 100th Century BC caveman hero, named Ug. Your objective is to get the heck out of this darn cave that you have no clue how you got into in the first place. But watch out for the dinosaurs and other creatures of the caves! (OK, so dinos don't live in caves...but what was I supposed to do with the dino pictures I got? Ok, so I didn't put the pics up, yet! They didn't fit...and their probably isn't gonna be any...but dinos make it fun!) Anyway, forget the glorified caveman award...it's been won...but the game is still fun...and you should still play it!
View the Caveman Hall of Fame!
Play the Original CaveMan!
The First Ever Glorified Caveman, er CaveWOman: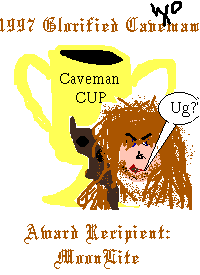 MoonLite
update:I'm leaving this page alone for posterity. I made this when I was 16/17 years old. Some people still have fun with it. I've deleted all the old graphics and links that go nowhere, and updated with my new e-mail: trashmanal@yahoo.com 02/04/03